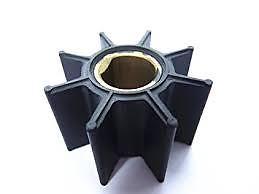 IMPELLER FOR HONDA BF4.5 BF5 BF6 BF7.5 BF8 BF10 7.5HP 4-STROKE 19210-881-A02
£10.99
Description
NEW REPLACEMENT IMPELLER FOR HONDA 4.5HP B.BX B2.B4 B6.
Fits the EARLY Honda ENGINES BF4.5 BF5 BF6 BF7.5 BF8 BF100=10HP outboards.
THESE ARE BRAND NEW IMPELLERS WE HAVE SOLD MANY IMPELLERS BY THIS COMPANY FOR MANY YEARS AND THEY HAVE BEEN VERY GOOD QUALITY AND MADE TO THE SAME STANDARDS.
THE HONDA PART NUMBER BELOW IS REFERENCE ONLY
HONDA PART NUMBER : 19210-881-A02
---
Only logged in customers who have purchased this product may leave a review.